Baylor Scott & White Institute for Rehabilitation Breaks Ground for New Neuro Transitional Center in Dallas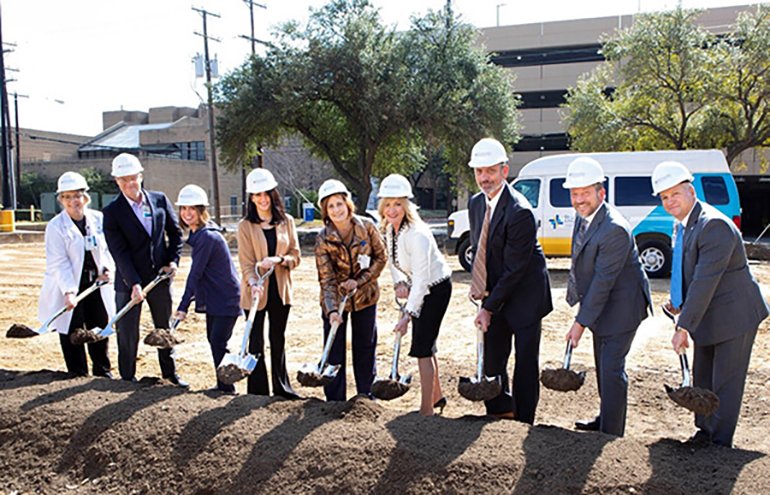 Baylor Scott & White Institute for Rehabilitation (BSWIR) held a groundbreaking ceremony on March 10, 2022, to mark the beginning of construction on its second Neuro Transitional Center in Dallas. This new 13,700 square foot facility, to be located at 3504 Swiss Avenue, will expand BSWIR's highly specialized neuro-rehabilitation services for individuals recovering from traumatic brain injury, spinal cord injury, stroke and other neurological conditions.
"The unique level of care provided by our physician-led, neuro transitional rehabilitation team advances patient recovery and facilitates a safe journey from hospital to home for patients with complex neurological injuries. I am both proud and humbled by the success of this program, its growth and the impact it has had – and will continue to have – on the health and well-being of our communities," said Fabian Polo, president, BSWIR, which is a joint venture partnership between Baylor Scott & White Health and Select Medical.
BSWIR's first Neuro Transitional Center, which opened in 2019 at 3601 Swiss Avenue, featured nine patient suites, medical and nursing oversight, physical, occupational, speech and recreational therapies, neuropsychology and neuro-behavioral services and community reintegration activities. The new facility, scheduled to open in the summer of 2023, will have 12 suites and a full complement of services, more than doubling BSWIR's capacity to help patients regain independent living skills and return home safely.
These innovative centers effectively address individual needs, ensure safety and optimize recovery in a small, home-like environment. Each patient suite includes a queen-size bed, desk or workstation with computer and internet access, a private bathroom and other amenities. A full kitchen and laundry area allow patients to build greater self-sufficiency and confidence in daily activities, such as meal planning and preparation. An enclosed yard with a patio and grill accommodates a range of leisure activities to further support individual progress, explained Jane Boutte, director of operations.
"This innovative program provides a critical link for patients with complex neurological challenges and the demand for this level of care continues to grow, not only across the Dallas Metroplex, but throughout the country. Given its success, BSWIR's Neuro Transitional Center has become our organization's national model for meeting the rehabilitation needs of this unique patient population," said Scott Keen, vice president, neuro transitional rehabilitation, Select Medical.
The overall goal of the Neuro Transitional Center is to provide patients with the understanding, training, skills and strategies to go about their daily living activities safely and successfully as they return home and to their communities.
"The exceptional outcomes of the graduates of this program are a reflection of each patient's personal determination, unwavering family support and the commitment to care excellence of our entire neuro transitional team," added Jeff Ruskan, president, inpatient rehabilitation hospital division, Select Medical.
Two of those graduates, stroke survivors Decina Bradford, the Neuro Transitional Center's first patient, and Tim Townsend shared their personal journeys and discussed the impact the program has had on their lives. They were introduced by Dr. Mary Miller Phillips, medical director of the Neuro Transitional Center and staff physiatrist at Baylor Scott & White Health.
BSWIR Chaplain Lynette Solomon led the benediction, noting that "... upon this soil the hopes, dreams, and visions of so many will be realized."