Our Core Values
We put our patients first
We are dedicated to helping patients find their way back from all types of injuries, illnesses and chronic conditions. We offer a network of inpatient rehabilitation facilities, outpatient therapy centers and home health services throughout north and central Texas to help patients return to independent and productive lifestyles.
We provide care for the most challenging and medically complex patients, including those with traumatic brain injury, traumatic spinal cord injury and patients requiring ventilation. Our flagship hospital located across from Baylor University Medical Center has been repeatedly recognized by U.S. News & World Report as one of the top 25 rehabilitation facilities in the nation.
Healthcare at our core
Healthcare is changing, and at Baylor Scott & White Institute for Rehabilitation, we are changing it for the better. To do that, we've created a road map for our future—our System Strategy.
The visual representation of our System Strategy is called Our Core. At the center of Our Core are the personal commitments our employees make to advance our work for the benefit of those we serve.
Our mission
Founded as a Christian ministry of healing, Baylor Scott & White Health promotes the well-being of all individuals, families and communities.
Our focus areas
Quality and safety
Customer experience
Team member experience
Financial stewardship
Our values
We serve faithfully by doing what is right with a joyful heart.
We never settle by constantly striving for better.
We are in it together by supporting one another and those we serve in all we do.
We make an impact by courageously taking initiative and delivering exceptional experiences.
Our vision
Empowering you to live well.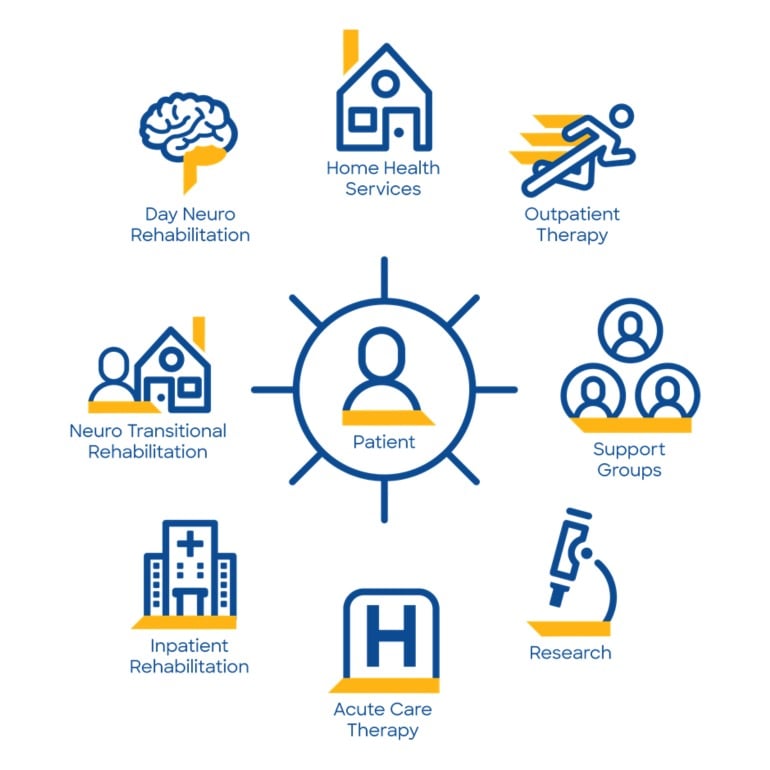 Most patients benefit from additional services after discharge. Through our extensive rehabilitation network, Baylor Scott & White Institute for Rehabilitation offers an extensive continuum of care that features diverse programs designed to help all levels of patients throughout their recovery. Whether you need inpatient rehabilitation, outpatient therapy, home health services or specialized care from one of our neuro rehab programs, we're ready when you need us. Learn more about our continuum of care.

Our history
Our journey began as the Gaston Episcopal Hospital. In 1978, the then general community hospital needed to expand to keep pace with the needs of modern medicine. Plans were made for a new four-story hospital to be built on Gaston Avenue and connect via tunnel to Baylor University Medical Center. Construction began on the new Gaston Episcopal Hospital in 1980 and the new facility was dedicated in April of 1982.
1984
Gaston Episcopal Hospital merged with Baylor Healthcare System and became Baylor Institute for Rehabilitation at Gaston Episcopal Hospital.
2011
Baylor Institute for Rehabilitation and Select Medical Corporation form a joint venture to provide an expanded network of inpatient and outpatient rehabilitation care across the Dallas-Fort Worth Metroplex.
2013
Baylor Health Care System and Scott & White Healthcare join forces to create a new health system, Baylor Scott & White Health, becoming the largest not-for-profit health care system in the state of Texas.
2018
Baylor Institute for Rehabilitation becomes Baylor Scott & White Institute for Rehabilitation. In July of 2018, Baylor Scott & White expands into central Texas with the acquisition of one inpatient rehabilitation hospital and 21 outpatient therapy centers.
2019
We celebrated the opening of a new level of care with our Neuro Transitional Center. Designed for patients who are not yet ready to discharge to home, this CARF-accredited residential rehabilitation program provides patients a home-like setting to continue their recovery after inpatient rehabilitation.
2020
Our outpatient therapy division opens its 100th location and continues to expand into new areas to meet the needs of our community.
Since forming our partnership with Select Medical, Baylor Scott & White Institute for Rehabilitation has grown from one rehabilitation facility, to four stand-alone rehabilitation hospitals, two rehabilitation units, more than 100 outpatient therapy centers and a full-service home health division.
Employee recognition
Our employees and medical staff strive to make a difference in the lives of our patients every day. If you had an exceptional experience with one of our employees, we'd love to hear about it. Click the link below to nominate them for our Torchbearer Award. Nominate an employee for a Torchbearer Award by clicking here.