Neurologic Rehabilitation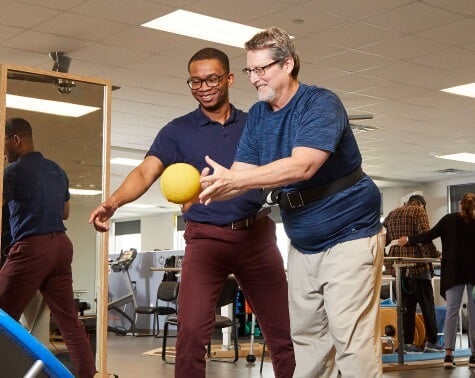 Compassionate care for complex needs
For individuals with an injury to the nervous system or those with a progressive neurologic disease, compassionate and comprehensive care is necessary. At Baylor Scott & White Institute for Rehabilitation - Outpatient Therapy, neuro-rehabilitation services are designed to help patients improve or maintain function, decrease balance challenges or issues and improve overall health and quality of life.
Our experienced therapists provide innovative treatments for patients and their families impacted by a neurological condition. We target the complex needs of individuals with:
Amyotrophic lateral sclerosis (ALS)
Cerebral palsy
Guillain-Barré syndrome
Multiple sclerosis (MS)
Stroke Rehabilitation
Spinal cord injury
Traumatic brain injury
Other neurologic conditions
Our specially trained clinical team works with patients to design a plan of care that targets their unique needs and overall goals. Our specialized neuro-rehabilitation services include:
Physical therapy: To increase strength, motor control, and improve mobility through walking and balance training
Occupational therapy: To address any limitation in daily living activities such as bathing and dressing independently, as well as visual deficits
Speech therapy: To improve language deficits, cognition, attention, memory and swallowing difficulties
Treatment plans may also include:
Cognitive rehabilitation
Driver's re-education
Locomotor training with body weight supported treadmills and/or AlterG Anti Gravity Treadmills
PWR!™ (Parkinson's Wellness Recovery) Program and SPEAK OUT!™ (Parkinson's Voice Project)
Neuropsychological evaluations to determine how the brain is affecting thinking skills and behavior
Vestibular rehabilitation
Vision therapy
Wheelchair evaluations
Orthotic and bracing evaluations
Day Neuro Program
Our comprehensive Day Neuro Rehabilitation Program provides a wide range of specialty services for individuals with an acquired brain injury.