Sports Injury
Helping you return to the activities you love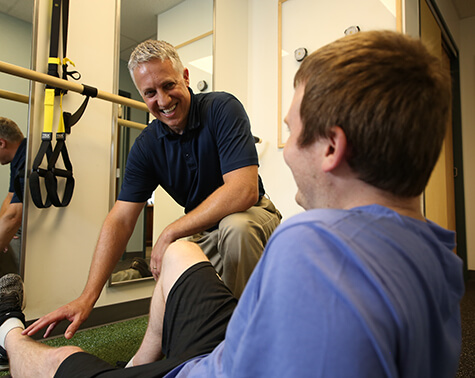 Participating in athletics or recreational activities is an exceptional way to exercise, spend time with friends and have fun — and for some people, it's their livelihood. However, an injury can quickly sideline your participation. Our sports physical therapy experts at Baylor Scott & White Institute for Rehabilitation - Outpatient Therapy are committed to helping identify your injury or source of pain and developing a personalized treatment plan to get you back to your activities as soon as possible.
What you can expect
Your initial appointment is an evaluation. During this time, your physical therapist will listen and learn how your injury occurred and discuss your recent health history and normal activity level. Your physical therapist will then assess your injury to determine which joints, tendons, bones or muscles are affected.
During this visit, our goal is to establish a trusting relationship, understand your injury and create a recovery roadmap that gets you back to your activities pain free. Your treatment plan will be developed based on specific clinical protocols from your physical therapist and your overall goals.
If you haven't visited a doctor prior to seeing us, we will perform screening tests to help evaluate injuries to your joints, muscles or ligaments. Once we make a diagnosis, we want you to begin treatment as soon as possible to help you return to your activities.
Your therapist may recommend one or more of the following treatment methods, along with specific manual therapy techniques, to alleviate your pain and enhance your recovery:
Home exercise program: a tailored exercise routine targeting your specific injury along with instructions on how to properly perform each exercise
Electrical stimulation: a technique that uses electrical impulses to create muscle contractions that promote healing
Heat and/or cold treatment: the use of ice or heat (or both) to reduce inflammation and alleviate pain
You can expect physical therapy two to three times per week for over 30 days. Visits may vary depending on your situation and the state of your injury. For example, recovering after a torn ACL or reconstructive shoulder surgery takes considerably longer than recovering from an ankle or wrist sprain.
Return to Play Program
The number one predictor of a future injury is a history of injury. At Baylor Scott & White Institute for Rehabilitation - Outpatient Therapy, our sports medicine therapists are specially-trained in effective ways to help you get better faster and return to the sport you love. Our Return to Play Test was developed through the latest research and expert consensus, and is administered by our licensed specialists to help you and your doctor make an informed decision on the appropriate time to return to full competitive activities.
Return To Play Program test
Our individualized, post-rehabilitation testing bridges the gap between physical therapy and return to sport. The session focuses on:
Psychosocial screening for mental preparedness
Isometric strength testing
Dynamic hop and jump tests for power and symmetry
Functional balance, movement and control
Biomechanical control under load
Sports specific agility testing
How do I start?
Baylor Scott & White Institute for Rehabilitation - Outpatient Therapy offers multiple locations to best meet your needs for Return to Play Testing. Testing is generally performed between five to six months after surgery and repeated three to four months later. After reviewing the preliminary test results with you, your physical therapist will discuss the next appropriate steps that will help you prepare for the final test and ultimately return to full sports. Talk with your physician or physical therapist to determine the appropriate time frame for your needs.