Headache Relief
Treatment for frequent headaches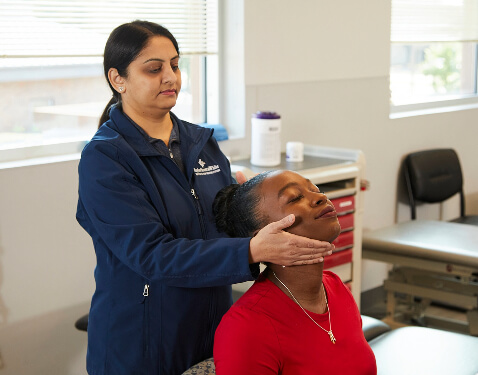 Some headaches warrant evaluation by a physician, such as those caused by high blood pressure (hypertension), sinus issues or tumors.
For headaches caused by tension, stress and TMJ disorder, physical therapy can help alleviate pain and correct many musculoskeletal conditions.
Baylor Scott & White Institute for Rehabilitation - Outpatient Therapy's licensed physical therapists work with you on treating your headaches so you can continue your activities and daily life with less pain. Your therapist will begin the evaluation by asking specific questions regarding your headaches, symptoms and any areas of lingering pain.
This information will help to identify whether your headache is caused by an issue such as:
Muscle tension and tightness
Neck or upper spine dysfunction
Reduced motion in neck and shoulders
Poor posture
Your therapist will then create an individualized treatment program to help minimize your pain, improve function and reduce or even eliminate headaches.
Restore your range of motion.