Athletic Training Services - Sports Health
Effective treatment for athletes of all ages
Baylor Scott & White Institute for Rehabilitation - Outpatient Therapy takes a proactive approach when managing sports injuries for high school, college athletic programs and professional sports. Our athletic trainers work as an extension of your team focusing on injury prevention, management and performance for your athletes. We provide on-site professional sports medicine for local sports teams, professional organizations and athletic competitions across North Texas.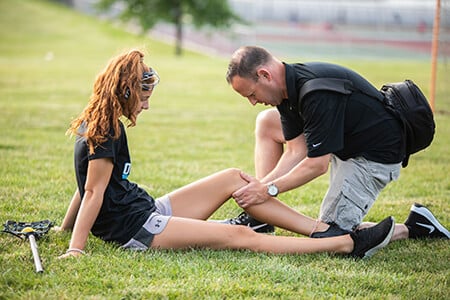 About our Sports Health Program
Our number one goal is to protect our athletes. With a staff of more than 130 athletic trainers and access to physical therapists and registered nurses specializing in sports medicine, we perform critical sideline screenings moments after an injury. This helps us identify potentially harmful injuries, such as concussions, and prevent further damage. For minor injuries, our athletic trainers work with the athletes to get them back in the action quickly and safely.
Athletic training event coverage for schools, tournaments and endurance events
Expedited referrals to board-certified sports medicine physician
Physical therapy referrals to one of our Outpatient Therapy Centers
Physical therapy injury screenings
ACL injury prevention program
Educational resources for parents, athletes, coaches and tournament directors
CPR and first aid training
For more information or to request services for your team, school or athletic event, please call 214.818.2534.
Our partners
From professional athletes down to the smallest peewee players, our goal of ensuring athlete safety remains the same. Below are just a few of the organizations that we currently provide on-site sports medicine for.
Adidas Girls Basketball
Advantage Academy
Allen Rugby
All Saints Episcopal School of Ft. Worth
Athletx Youth Baseball/Softball Nationals
Atlas Injury Prevention Solutions
Baylor Scott & White Medical Center – Frisco
Baylor Scott & White Medical Center – Carrollton
Bethesda Christian School
Birdville ISD Athletics
Big Time Hoops LLC
Bishop Lynch High School
Bobcat Youth Football League
Blue-Grey Classic
BOSHA
Brewer MS
Byron Nelson High School
Caddo Mills High School
C2C Lacrosse
Carroll ISD
Carry the Load
Celina ISD
Colleyville Heritage High School
Colleyville Lacrosse
Collin College
Coppell High School
Coppell Lacrosse
Coppell Youth Football League
Cowboys U
Dallas Cowboys Cheerleaders
Dallas Cowboys Youth
Dallas Cup
Dallas International
Girls Cup
Dallas Jesuit
Dallas Rugby
Dallas Texans ECNL
Dallas Texans Fall Festival
Dallas Ultimate Frisbee
DFW Fastpitch
DFW Youth Lacrosse
Dragon Youth Football League
DRC Breakfast Bash 5 Mile
Episcopal School of Dallas
Eagle Mountain Rugby
Forestburg ISD
Fort Worth Christian Youth Football League
Fort Worth Panther Lacrosse
Fort Worth Youth Soccer
Frisco Bombers Wrestling
Frisco ISD
Garland Soccer Association
Grapevine-Colleyville ISD
Grapevine High School Booster Club
Grapevine High School
Harvest Christian Academy
Heart of Texas Showcase Basketball
Home School Athletic Association
Irving Lacrosse
JATO Athletics
Keller Lacrosse
Lake Highlands Girls Classic League
Lake Highlands Lacrosse
Lantana Wildcats Youth Football League
Legacy Christian Academy
Little Elm High School
Lucas Christian Academy
Lovejoy High School
Major League Baseball – RBI Program
Major League Baseball – Office of the Commissioner
Maypearl High School
Mesquite ISD
Mulligan Adult Sports League
Mustang Panther Youth Football League
McKinney Christian Academy
McKinney ISD
McKinney Lacrosse
McKinney Soccer Association
NEPS Soccer Tournament
Northwest High School
Northwest Sports Youth Association
Pacific Sports LLC (US Open Triathlon)
Palmer High School
Parish Episcopal School
Paul Quinn College
Perfect Game Baseball
Plano Lacrosse Association
Playtri
Premier Basketball League
Primetime Sportz
Prosper LAX
Richardson Corporate Challenge
Red Oak ISD
Rockwall Lacrosse
Shalin Hoops
Shawnee Trail Shootout
SIVA Volleyball
Skyline Juniors Volleyball
Some Like It Hot 5K
Sports Source Showcase
Sting Soccer ECNL
T99 Enterprises LAX
Terrell High School
Texas Cup
Texas Marshals Collegiate League Baseball
The Colony Youth Football League
UIL State Championships
United Elite Gymnastics
University of Dallas
US Youth Soccer
UTD Rec Sports
UT Dallas
Westwood School
Get the help you need for your injury.