Orthopedic Services
Advanced treatment for the joints, musculoskeletal injuries or bone trauma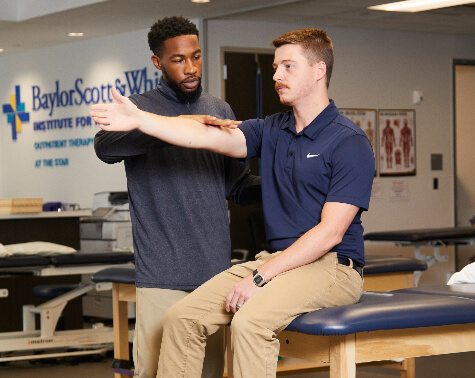 Orthopedic rehabilitation includes any injury or condition that is affecting your muscles, bones, cartilage, joints, tendons or ligaments. That includes things like arthritis, carpal tunnel syndrome, sports injuries, broken bones, joint replacements, ACL tears and many more. Our experienced physical and occupational therapists bring advanced treatment to patients who have undergone joint replacement, experienced a musculoskeletal injury, sustained bone trauma or have been diagnosed with a degenerative joint disease.
We provide advanced care for a wide range of orthopedic and musculoskeletal conditions including hip fractures, joint replacements and multiple trauma injuries. Our multidisciplinary team helps patients to:
Regain strength and mobility
Increase function
Utilize adaptive techniques and equipment
Resume daily activities as safely and independently as possible
Outpatient orthopedic services
Nothing can slow you down like muscle or joint pain. Our outpatient orthopedic rehabilitation can help you overcome injuries or impairments affecting your muscles or skeletal system. Whether you have a broken bone, an ACL tear, a joint replacement or you're just trying to get rid of stubborn back pain, we can help treat a wide variety of musculoskeletal conditions. Our licensed therapists specialize in treating orthopedic injuries and will build an individualized plan around your needs so you can get back to your life as quickly as possible.
Outpatient orthopedic services:
Physical therapy
Occupational therapy
Hand therapy
Sports medicine
Work health
Recover from joint pain more quickly with tailored therapy.