Physical Therapy
Therapy focused on you
If you are dealing with a recent injury, recovering from joint replacement surgery or experiencing chronic pain, our Baylor Scott & White Institute for Rehabilitation - Outpatient Therapy's physical therapy team can help you heal, regain strength and mobility and reduce pain.

Our goal is to help you feel better physically while making sure you're comfortable and an active partner throughout your physical therapy treatment. Whether you are recovering from an injury or need pre-habilitation services before surgery, our experienced clinical team will work diligently to get to the core of your injury or condition to help you recover and stay healthy.

Experience the power of physical therapy and its benefits. Physical therapy can help you get you back to life and the things you love while avoiding surgery and the long-term use of prescription medications.
What you can expect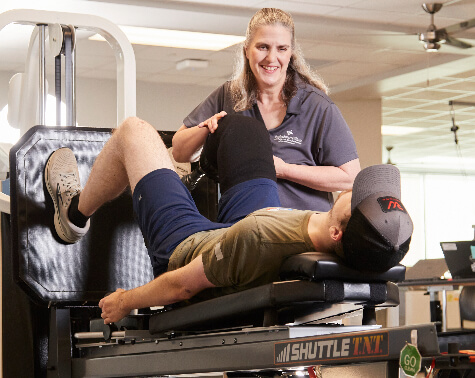 Our team focuses on caring for and helping each patient reach his or her goals. At your first appointment, our physical therapist will ask about your injury, home environment, activity level and interests. We'll ask about your goals, too. Do you want to be able to pick up your grandchild? Do you want to start running again? Or would you like to enjoy cooking dinner without pain?

We will listen and document your background. The information will help create a roadmap for treatment and, most importantly, help you return to daily life.

Your physical therapist will also check your strength and flexibility. During that first appointment, our goal is to provide information about:
Your injury
Your treatment plan and how it will help
How many appointments to expect for your treatment
Treatment often begins during your first appointment, which will be 45-60 minutes. That treatment may consist of specific, hands-on techniques, called manual therapy, to improve mobility in joints and muscles, and exercises designed to help meet your goals.

Baylor Scott & White Institute for Rehabilitation - Outpatient Therapy also offers advanced techniques and treatment strategies* that our therapists may utilize in your care, including:
AlterG Anti-Gravity Treadmill - NASA-based technology that supports up to 80% of a patient's body weight to help relieve pressure on lower extremities
Personalized blood flow restriction therapy - technique using compression cuffs placed around a patient's limb(s) to help increase strength with low intensity exercise
Cupping therapy - mobilization technique using small suction cups to treat pain, inflammation, stiffness and blood flow restrictions
Instrument-assisted soft tissue mobilization (IASTM) - method of massage using specially designed stainless steel instruments to allow direct treatment of muscles, fascia, ligaments and tendons
During physical therapy, we will work to improve your quality of life and help you return to the activities you enjoy.

*Services vary by location. Contact a center near you today for more information