Why Choose Us?
Your best choice for outpatient physical rehabilitation
Baylor Scott & White Institute for Rehabilitation - Outpatient Therapy is part of the Select Medical Outpatient Division, a nationally renowned and community-based provider of outpatient physical therapy and rehabilitation. Our family of brands is widely known and respected throughout the country. Those brands include: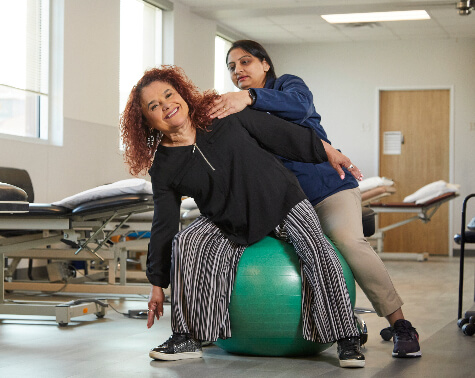 Together, our centers make up a network of more than 1,900 rehabilitation centers in 40 states and the District of Columbia. We offer a wide range of physical therapy and rehabilitation services, including:
Our expertise, partnerships and successes
Many providers of physical therapy and rehabilitation say they are dedicated to excellent care. At Baylor Scott & White Institute for Rehabilitation - Outpatient Therapy, we prove it with our regular patient satisfaction surveys and online reviews, which show our patients experience outstanding clinical results and unmatched care from their therapists. Learn more about our expertise and outcomes.
Our expert and trusted care makes us the ideal physical therapy and rehabilitation partner for more than 500 professional, collegiate and high school athletic teams across the U.S. Explore our many sports partnerships.
Our mission, commitment and vision
We are dedicated to providing an exceptional and positive patient experience. We are passionate and love what we do, and it shows. Learn more about our mission.

In order to carry out our mission, we must be true to our values. We strive to see the world through the eyes of our patients and their families, our fellow employees, doctors, referral sources and job candidates. We value each of these experiences.
We have a vision of the care and experience we work to provide every day. It's called the Select Medical Way. Holding to the Select Medical Way is to:
Put the patient first –build trust, listen and communicate throughout their healing journey
Help improve quality of life for the communities in which we live and work
Be open to and welcoming of new ideas from all levels of the organization to continually improve
Attract, train and retain the best possible team members
Stand out from others by fully embracing high-quality clinical care and sharing a commitment to doing it right
Restore your range of motion.