Occupational Therapy
Therapy to enhance your daily life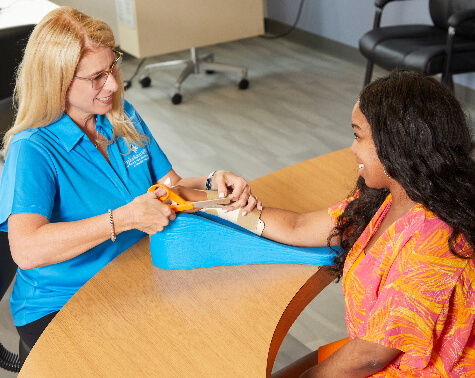 Occupational therapy helps patients participate in activities that are important in their lives. Our occupational therapists use a variety of treatment options to help improve your activity level and quality of life.
We treat patients of all ages. As our patient, you'll benefit from a treatment plan specific to your unique needs and goals. We offer occupational therapy in our centers and at your home, depending on your needs.
Who needs occupational therapy?
Occupational therapy is used to treat a variety of physical, sensory and cognitive (thinking) conditions. Your doctor and occupational therapist will work with you to determine if therapy is right for you.
Occupational therapy can also be used to treat many other conditions, including:
Amputations, including the use of prosthetics (artificial body parts) for upper and lower limbs
Arthritis and related joint disorders
Burns and traumatic (serious) injuries
Fractures
Multiple sclerosis (MS), a disease of the central nervous system
Neurological disorders of the brain, spine or nerves (Parkinson's disease, stroke)
Repetitive motion disorders from the overuse of muscles, nerves, ligaments and tendons
Sports-related injuries
Work-related injuries
Many of the above listed hand and arm related conditions also benefit from our comprehensive hand therapy program, provided by physical therapists, occupational therapists and certified hand therapists. Click here to learn more about our hand therapy program.
We also offer specialized care for cancer survivors to help them recover after surgery, chemotherapy or radiation. Click here to learn more about the unique care available through ReVital Cancer Rehabilitation.
What to expect
Your occupational therapist will work with you to create a care plan based on your individual situation and goals.
Your first appointment will last about an hour. During this visit, your therapist will examine you, listen to and assess your needs to develop the plan that's best for you. He or she may also visit your home or office to better understand your daily activities.
Treatment may focus on improving:
Daily activities such as eating, feeding, bathing or using the bathroom
Mobility, standing, sitting and moving around
Learning processes to help with how you think, concentrate or organize ideas or tasks
Behavioral and social skills
During ongoing appointments, your therapist will reassess your progress and adjust your treatment as needed to make sure your goals are being met. Your progress will help your therapist determine the right amount of therapy appointments for you.
Learn if occupational therapy is right for you