Running Program
Specialized treatment for runners and endurance athletes
Our team of sports clinical specialists help runners and endurance athletes prevent injury and improve performance by identifying certain movement patterns that put them at risk. Running injuries are often caused by muscle imbalances, weakness, poor body mechanics, improper footwear and/or overtraining.
We offer specialized, comprehensive care personalized to meet each patient's goals. We provide runners the ability to improve their running mechanics, rehabilitate from injuries and prevent further dysfunction. And since many of our therapists are runners themselves as well as therapists, we can offer tips and techniques to manage future injuries.
How physical therapy can help reduce injuries and improve performance
There are more than 40 million runners in the United States.1 More than 45% of those athletes experience at least one overuse injury during training,2 with more than 90% of those injuries occurring in the toes, feet, ankles, lower and upper legs, knees and hips.3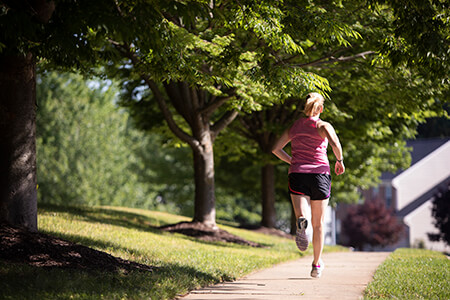 Common injuries, include:
The majority of all running injuries are non-contact (no traumatic impact, fall or collision) and largely preventable.4
Runner's knee
Achilles tendinitis
Hamstring issues
Plantar fasciitis
Shin splints
Iliotibial (IT) band syndrome
Stress fractures
Female-specific services
Education regarding how female anatomy affects joints and stresses the soft tissue structures
Guidance for runners pre- and post-partum
Sensitivity to the female triad: eating disorders, amenorrhea and osteoporosis
Many of our physical therapists are also trained in the IASTM technique, which is an evidenced-based treatment for chronic overuse injuries. Diagnoses such as patellar tendinopathy, plantar fasciitis, IT band syndrome, Achilles tendinitis, hamstring strains and many more respond well to this specialized manual technique.
We are not only committed to our runners in the clinic, but also support them on the road. Our clinicians have provided educational seminars of various topics specific to runners in conjunction with local running companies and organizations. We take pride in our community involvement by partnering with running organizations, providing therapeutic treatment at large and small local events throughout North and Central Texas.
For more information about our Running Program or to schedule an appointment, call 888.722.9567 or email [email protected].
What to expect
Our expert team will work closely with you to improve movement patterns that help avoid running injuries and meet your goals. A comprehensive, one-on-one examination of your gait using various technology such as dorsaVi™ Movement Suite and ViPerform™ Athletic Movement Index™ will identify fundamental and functional movement patterns and any mobility, stability, strength or flexibility deficits of those movement patterns.
We'll closely examine your hip, knee and ankle motion as well as your:
Leg symmetry
Average ground reaction force and contact time for the left and right leg
Average steps per minute
Total distance
Average speed
Hip drop
Your therapist may also discuss your foot alignment and make shoe recommendations.
We want to ensure that you're performing at your maximum potential and that you will cross the finish line. Let us help you do that by avoiding running injuries.
References:
Messier S, Legault C, Schoenlank C, Newman J, Martin D, Devita P. Risk factors and mechanisms of knee injury in runners. Med Sci Sport Exerc. 40:1873-1879. 2008.
McKean K, Manson N, Stanish W. Musculoskeletal injury in masters runners. Clin J Sports Med. 16:149-154. 2006.
Cipriani D, Swartz J, Hodgson C. Triathlon and the multisport athlete. J Orth Sport Phys Ther. 27:42-50. 1998
Hauret K, Bedno S, Loringer K, Kao T, Mallon T, Jones B. Epidemiology of exercise and sports related injuries in a population of young, physically active adults. Am J Sport Med. 43:2645-2653. 2015.
Get the help you need for your injury.