Newly Renovated Day Neuro Rehabilitation Center Opens in Dallas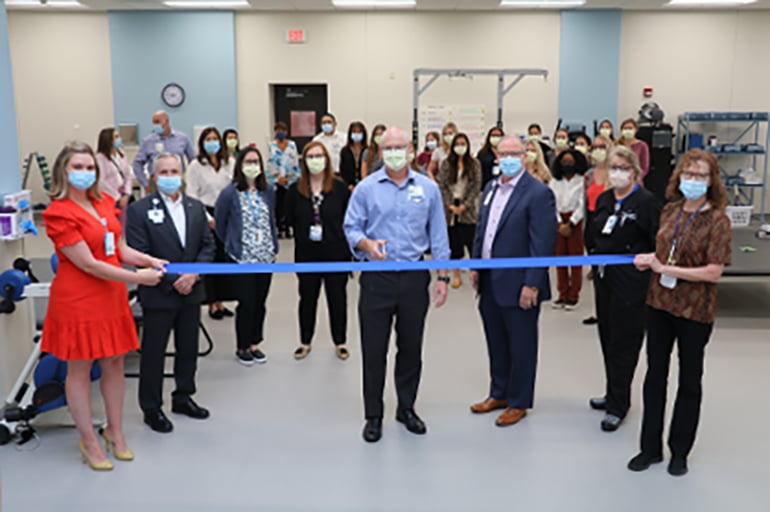 DALLAS, Texas – Jul. 21, 2021 -- Baylor Scott & White Institute for Rehabilitation (BSWIR) held a ribbon-cutting ceremony on July 21, 2021, to mark the opening of two specialized outpatient programs: our Day Neuro and neuro-rehabilitation programs at its Dallas hospital, located at 909 North Washington Avenue. The programs offer innovative treatment to help individuals transition to life at home and in the community following a stroke, brain injury or other neurologic event.
"Every detail of this new treatment area was meticulously thought out." said Fabian Polo, President, Baylor Scott & white Institute for Rehabilitation. "Through design changes and delays due to the pandemic, our team worked through adversity to accomplish a goal of providing better care to our patients, and I'm proud of the final outcome."
The Day Neuro Program provides rehabilitation services in a safe, secure and structured environment by a team of physical, occupational, speech and recreation therapists, nurses, doctors and other neuro-rehabilitation specialists. Combined with our specialized outpatient neuro-rehabilitation center and an inpatient rehabilitation facility ranked by U.S. News & World Report as a top rehabilitation hospital, this newly combined therapy center offers patients an extended continuum of care to neuro patients. The new center features a large therapy gym, advanced equipment and technologies, a training kitchen, and a state-of-the-art therapy pool.
"Bringing together these two programs under one roof, along with our inpatient facility reinforces our dedication to our neuro continuum," said Katharine Powers, market director, neuro continuum. "Providing patients the ability to receive care at the same place during their entire recovery helps create familiarity with the care team, building a foundation for a great outcome."
Baylor Scott & White Institute for Rehabilitation is one of only 16 model systems for the treatment and research of traumatic brain injuries, which supports the continuum of neuro-rehabilitation care. The Day Neuro Program is open to patients 18 years or older who have experienced a stroke, brain injury, brain tumor or infection, or spinal cord injury.